Your one stop source for affordable printer ink and toner cartridges.
Ordering printer accessories for your business has become that much easier! Let us take care of all of your printer needs with our new Printer Supplies Program. This program helps take the worry of ordering printer supplies away from you, leaving us to do the worrying for you. Once we determine the correct toners you need, we will contact you when the time comes and order.
Why use our Printer Supplies Program?
We will not only make sure you do not forget to order your supplies, but we will also beat the price of all major re-sellers!
What should we be ordering?
We have found that having backup toner and ink cartridges to be more cost effective, ultimately reducing the risk of running out of the supplies you need the most.
What's the difference between high and low yield toner?
Low yield cartridges are the usual printer cartridges that produce standard page capacity. Example: Lexmark MS310 low page yield is 1,500 for $89.95
High yield cartridges have a higher printing page capacity than low yield toners. This option is best suited for producing a large volume of documents and is more cost effective for the page yield given. Example: Lexmark MS310 high page yield is 5,000 for $224.95
Below are price comparisons for our most popular printer accessory products being sold. Contact us today for your customized product pricing!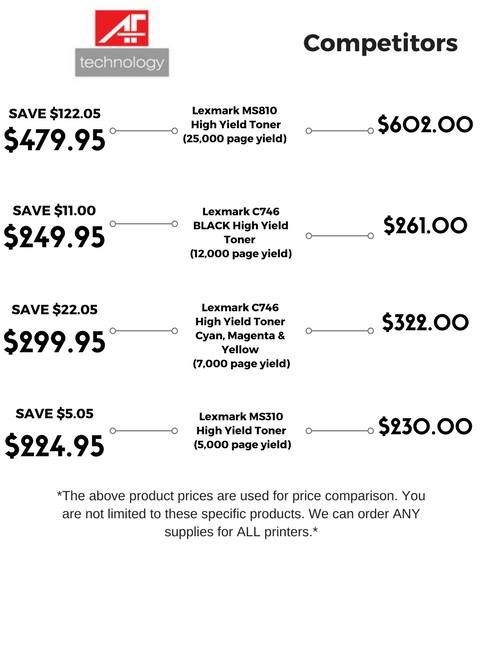 Did You Know?
Lexmark and HP has recently updated their warranty offerings! They now do not cover any ink/toner cartridges or customer-replaceable print-heads that have been refilled, re-manufactured, refurbished, misused, or tampered with.